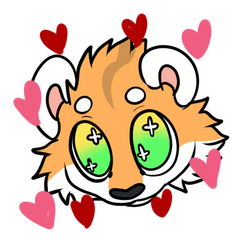 Chumii Art
Comms open
Artist from 🇵🇾
♪ Visual Arts Bachelor | Spanish & English Teacher | SFW ♪I speak: Spanish, English and PortugueseIf comms are closed, contact me through any link below, I will add you to my queue.
Follow Me
Support & Donate
Commissions Open
Live 2D
Art & Rigging
Halfbody - $150 to $180
Fullbody - $350 to $500
Each toggle - $15 to $25
Each animation - $35 to $50Prices vary depending on character's complexity.Rig only starts at $80
Animated PNG Tuber Model
Starts at $100
Includes: 4 animated poses, the base speech and three custom expressions.Non-animated stills start at $80
Stickers - Emotes
Stills $10/each
Pack of 10 is $85
Animated $20/each
Pack of 10 is $175Size is 512x512
Max per order is 10
Illustrations
Ref Sheets start at $80
Badges start at $80
Profile pictures start at $80
Chibis are $40- The prices in this section can be discussed and lowered if character has simple design.
Para latinoamerica todo esta a 50% de descuento, siempre.
Avisame de donde eres, para darte el descuento.
Terms of service
GENERAL INFO
♪ I have the right to update my terms of service at my discretion.
♪ I have the right to refuse or cancel a commission.
♪ For security, I only will open reference images from links of (FurAffinity / DeviantArt / Stash / Discord / ToyHouse / Imgur). Otherwise send the images directly to me.
♪ I send the link to a backup in DAstash or Gdrive to most Live2D models, for other work it is upon request.
♪ I do clean ups of my computer yearly. I do not post about this on any social media, so if you want to archive it, ask asap.
♪ You are paying for a Digital Good that requires no shipping information.
♪ All of the art pieces will have my signature in a visible place, and may not be moved, removed or resized by any means.
♪ Crediting me is appreciated, but not mandatory.
♪ Some colors may change a little to fit the art style.
♪ No work made by me may be used in any blockchain-related technology. This includes NFTs, Cryptocurrency and/or related future technologies.
♪ No work made by me may be used in any AI (Artificial Intelligence) programs.
♪ Changes to the artwork are only available all the way BEFORE colors are added. Colors are the last step of my progress, so unless the change required is about COLORS, it won't be accepted.
♪ There is an extra fee for commercial rights. Ask about it if you plan to use my art for this.PAYMENTS & REFUNDS
♫ I prefer to use PayPal & Zelle for payments, but I am willing to discuss other methods.
♫ I charge in USD, although I am willing to charge the exchange value if customer has a different currency.
♫ I require 50% of the final price upfront.
♫ Payment plans can be discussed, but I will still need 50% upfront.
♫ Full refund is only available if work on art hasn't started yet. If work has begun, only 30% of what was paid will be returned.
♫ I don't do holds, you'll be added to the queue.
♫ If the payment plan is bigger than $1000 USD and the customer decides to stop or cancel the commission, refund will NOT be an option.
♫ Forced refunds will be reported and legal action taken if necessary.TIME & WORK SPEED
♥ The time can vary from a week to up to 3 months. If your waiting time has been longer than this, message me immediately.
♥ You can ask for updates at ANY time as long as you don't spam my DMs.
♥ If you need the artwork to be delivered on a certain date ask.
♥ I have personal responsibilities irl, so please be patience.
♥ I DO NOT WORK on the weekends. (Although DMs are open for inquiries.)COPYRIGHT♥ As the artist, I will retain rights to the artwork and I can:
☺ Post the artwork on any social media.
☺ Post WIPs (work in progress) on my social media.
☺ Make speedpaint videos.♥ As the client, you can:
☺ Post the artwork on social media (non-profit) giving me credits.
☺ Reproduction on products for personal use only.
♥ As the client, you can't:
☺ Modify, trace, edit, copy or add elements to my artwork without my approval.
☺ Make NFTs of my art
☺ Put it on AI art programs, even "for fun", don't do that
What I draw:
I WILL :
♡ Human / Humanoid
♡ Furry / Anthro
+ Animal / Feral
+ Monster
+ Closed and Open Species
+ Fanart / Original Character / Fan Character
+ LGBTQ+ / Hetero
+ Any body type.
+ Any age.
+ Multi-body-parts "aesthetically in place".I WONT :
✦ Imitate other artstyles
✦ Hate art.
✦ Political stuff.
✦ NSFW / Gore / Fetish art.